Robert C. Dorney

Personal History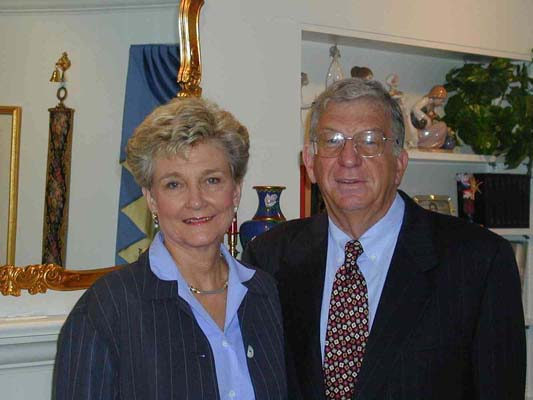 Bob Dorney was born in March 03, 1925, Oldest son of Mabel and Warren Dorney. He has two brothers and three sisters ,who all worked for Daytimers. In 1950 he married Audrey Ryback, they had 3 children ;Craig, Faye Anne and Keith. Audrey died in January of 1994. In 1996 he married Hazel;She has two sons and two daughters. Together they have 7 children and 12 grandchildren.
  Bob Dorney has spent his entire working life in printing and mail order. His father. Warren P.Dorney, got Bob and his two brothers started in the job printing business while they were still in high school.
  During world war 11, Bob served for 2-1/2 years in the Air Force where he spent most of his time as a printer at wright field in Dayton, OHIO. After release from the service , he returned to the famirey's printing business . It was about that time that Bob started to develop and sell several printed products successfully through the mail.
  In 1947 Dorney Printing Company began an association with Morris Perkin ,an Allentown, PA attorney who had developed a loose-leaf diary system called "Lawyer's Day".....whth an active subscriber list of only 700. That original lawyer's day would eventually evolve into a whole series of time-planner organizers called Day-timers.........which today has a combined customer list of over 3 million.
  In 1972 Day-Timers joined Beatrice Companies, Inc. and became part of their comsumer durables organization,which was then taken over by American Brands, INC. And Day-Timers became a part of their ofiice products core business which reports to Acco World Corporation Northbrook, Illinois.
  Bob Dorney served as group manager for the direct marketing group of Beatrice Companiies, Inc. and as president and general manager of Day-Timers, Inc. Until March of 1987. During 1986,  Bob initiated the search for his successor, and on his 62nd birthday , he took the position of SR. Vice president and director of product development at Day-Timers, Inc. Having assured a smooth transition for Day-Timers' new president when his son, Keith Dorney, announced his retirement from the Detroit Lions of the National Football League. Bob formally retired from Day-Timers in October of 1988, and for 3 years he was retained by Day-Timers as a consultant.
  Bob was a director and member of the executive committee of The Direct Marketing Association, and also served in numerous positions of the board. He was honorary chairman of The Direct Marketing Association's Annual Catalog Conference which was held in New York in July of 1988.
   Bob was also a director and member of The Executive Committee of Lancaster Theological seminary for over 20 years, where he served in numerous positions.
  Over the years, Bob has also given freely of his time and talents to numerous civic, religious and charitable organizations and causes.

---
HOME